Interactive Missions Display
The InTouch Missions application is a full featured, multimedia driven, and highly interactive missionary display system. Connecting members to missionaries since 2010!
Thank you for reading this post, don't forget to subscribe!
InTouch Missions Software
The InTouch Missions software powers the entire interactive missionary display system allowing your audiance to navigate information about missionaries around the world via the touchscreen monitor. Having information at the touch of a finger provies real interaction with the people your ministory or organization loves to support.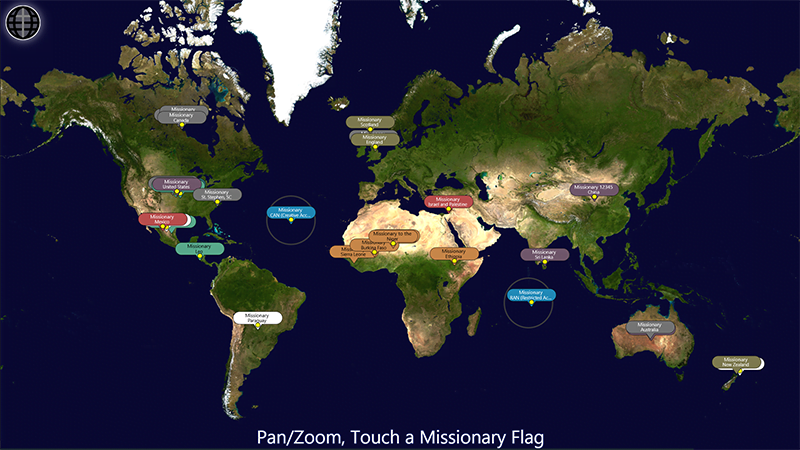 What is an interactive missions display system?
Mission Connections
Connect your members to the missionaries you support through feature rich information, email access, multimedia, and more. Connect members to missionaries like never before!
Powerful Software
Using the powerful InTouch Missions software, you manage what the user sees. Along with all the content from your missionaries, letters, information, prayer requests, etc, You control what your users see and even match the look of your printed and electronic media.
Minimalistic Hardware
We use small form factor mini pc hardware that allows you to mount and hide just about anywhere. This powerful hardware drives the display units and is backed by a great warranty and industry standard computer hardware.
Touchscreen Display
Utilizing a touchscreen display allows the user to interact with the software in a seamless, unobstructed way.
Powerful Hardware
The EMR Mini-PC
The InTouch Mission system is designed to be flexible and rugged anywhere you put it.
Powered by the latest mini-pc architecture, you can hide and mount the computer just about anywhere and it creates a seamless and beautiful distraction free display.
The system can be connected to any touchscreen. Whether you need to purchase one, or you already own a touchscreen, this Windows OS system will work with any touchscreen.
TouchScreen
The immersive touchscreen allows you to navigate and interact.
Powerful Systems
Our system uses the most powerful hardware and software for a smooth user experience.
Wall Mounted Display
Our displays are flexible and wall mounted to save space in your location.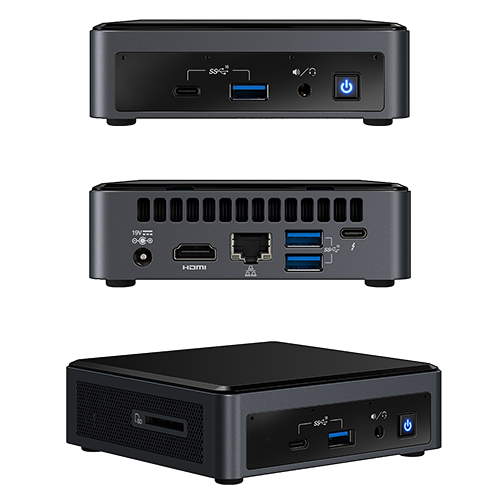 Wall Mounted Display
You get to choose how the unit is displayed. We can help you choose what touchscreen to use or you can bring your own. However you see fit, creating an inviting display is easy with large touchscreen panels that invite interaction.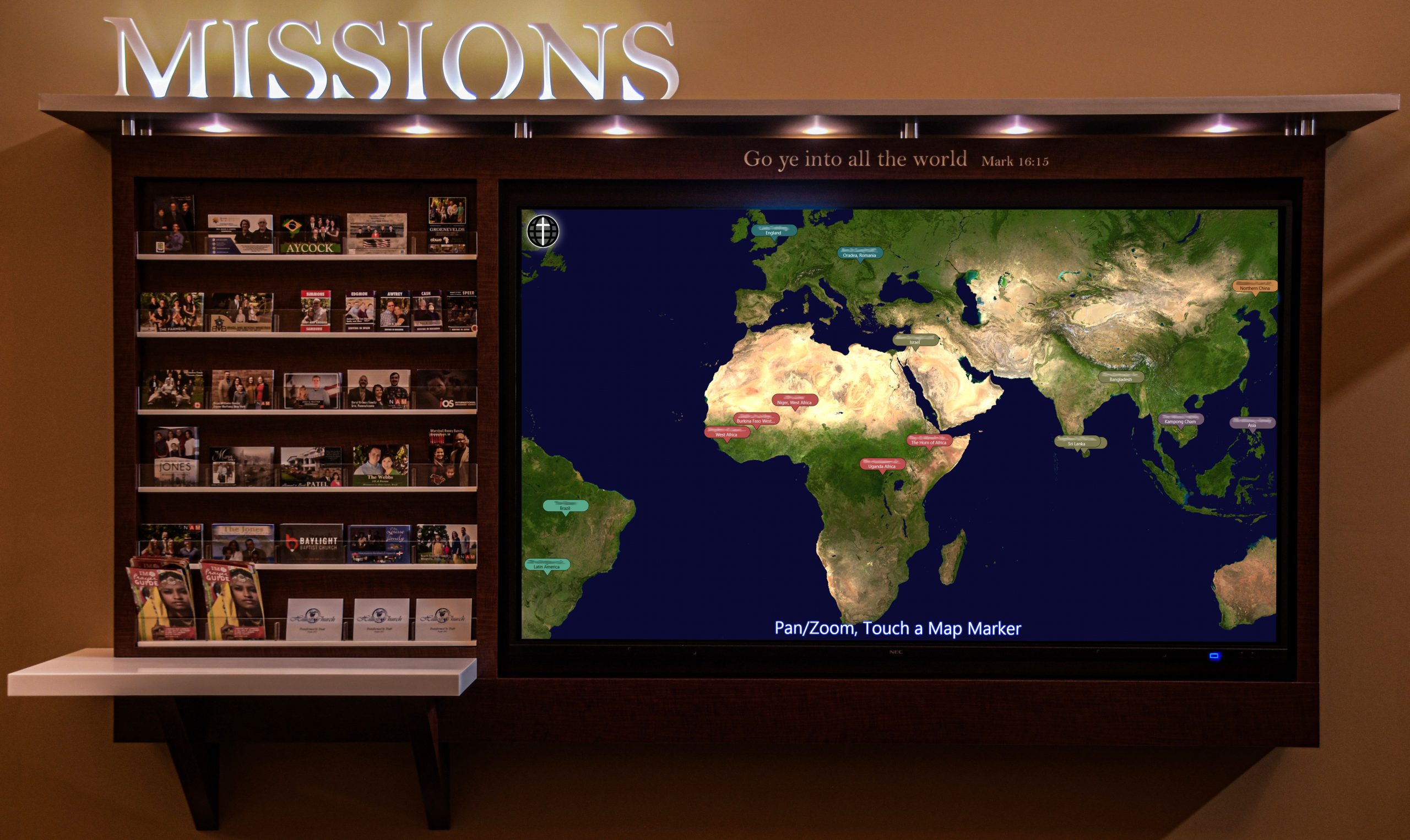 Feature Rich Software
We have been connecting members to missionaries since 2010. Our InTouch Missions Display System has over 1000 software commits and updates. All based on feedback and suggestions from missionaries, pastors and system users.
Managed Software
Our application updates with one button so you get the latest features and updates.
Feature Rich
We build features you ask for. Based on feedback from users, you'll get an incredible user experience.
Letters
Display letters sent to you from your missionaries.
Multimedia
Display videos and images from missionaries.
Information
Display contact, birthdays, prayer requests & more.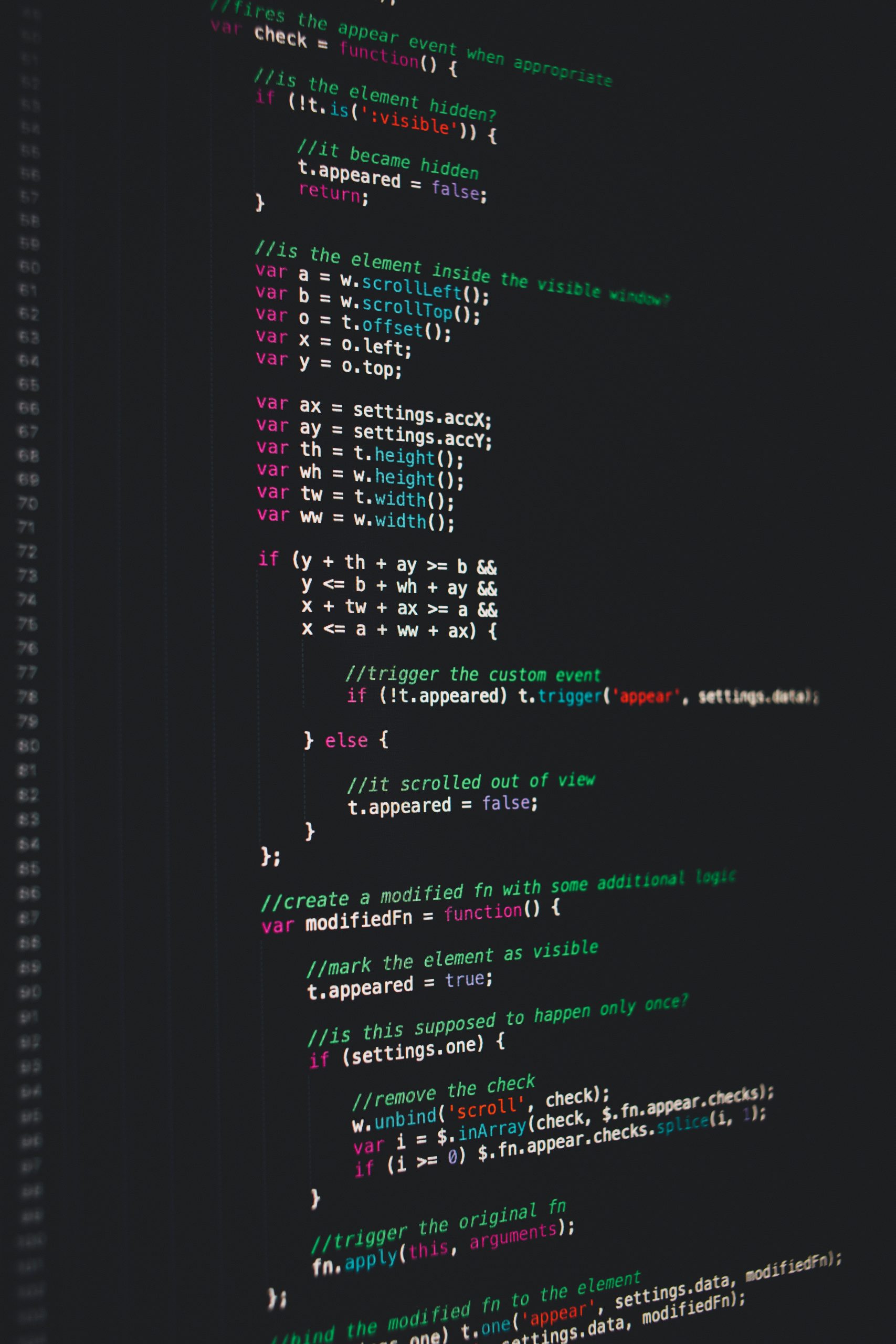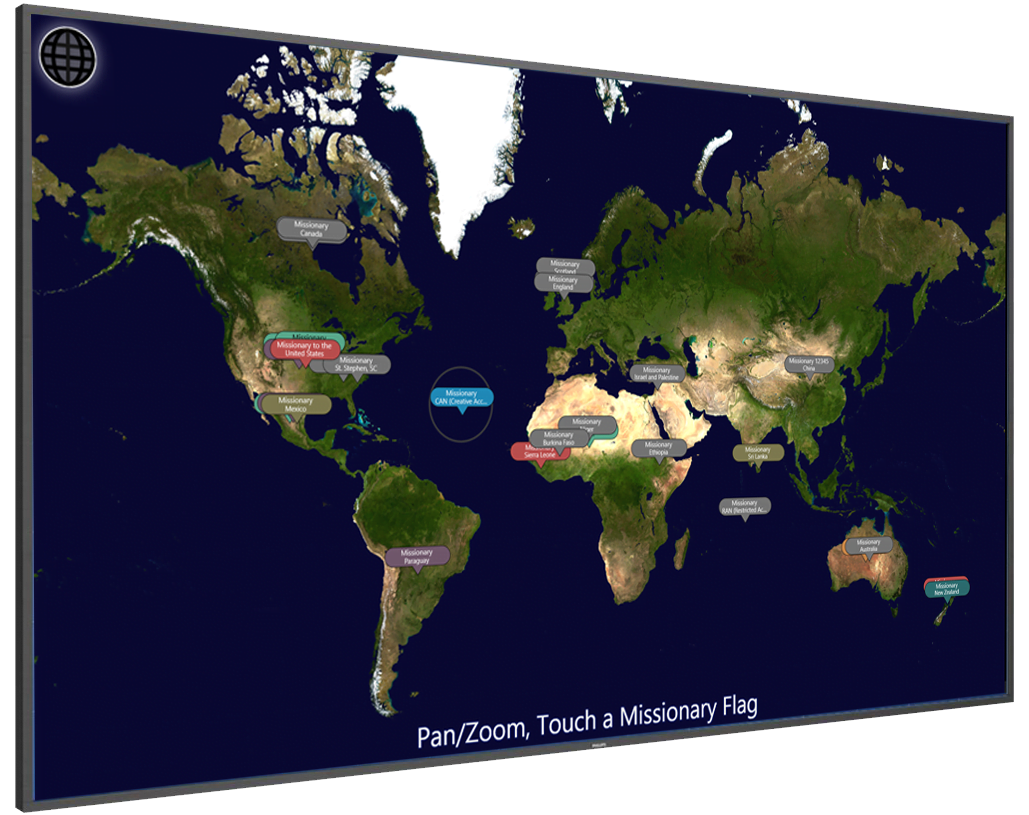 Flexible Display Options
Whether you're bringing your own touchscreen display or you want us to provide one, there are many options. Having a 55″, 65″, or even 75″ display unit powered by our software invites people to interact and learn more.
55/65/75 Inch Complete System
This system comes with a 55 inch touchscreen monitor, heavy duty wall mount, versa plate computer mount, hdmi cable, EMR Mini PC.  The PC will hide behind the monitor.
Provide Your Own
We have been providing and servicing computer hardware and software since 1999.  We get some really great pricing on everything we provide.  While we do not force you to use our hardware to run the InTouch Missions application, we do have some recommendations to provide the best experience for your members.
Download Now
Our software is written for Windows 10. Feel free to download the software and take it for a trial run. We know you'll love it!